Serving Mt. Morris & Surrounding Areas
OmniSmiles opened its doors in March of 2019 to help patients of all ages achieve a healthy, functional, and beautiful smile. We pride ourselves upon our integrity and communication. OmniSmiles is a judgment free office. We don't believe in "selling" treatment. Instead, we present options and together we select which option works best for you. Learn more about OmniSmiles.
Everyone was very nice! Dr did excellent work and called to check on me the next day! Best dentist

I ever had!

read more
Travis and his whole team were absolutely amazing. Had an emergency tooth extraction and they were

so welcoming and sweet. Made it so much easier for me being an anxious person. All around great experience, would recommend to anyone!

read more
They are very thorough with their examinations! They are friendly and great to work with. After

looking for a new dentist since Dr Buxton retired around 2019, I finally found Travis and his staff to take over. Thank you for the first time welcoming and gift.

read more
My daughter had her first appointment at Omnismiles today. She has sever stoical anxiety and we

were not sure how she would do today. She had some trouble in the waiting room but when she went back the hygienist Shar was amazing.She talked her through everything as she was doing it and had he calm after a few moments. Dr. Travis was amazing as well. I would definitely recommend this place to anyone look for a great dentist.

read more
Amazing experience at Omni Smile. Dr. Travis was very friendly and spent a lot of time discussing

my oral health and concerns. The staff works together flawlessly and seem as though they are a big happy family.

read more
Great experience, great service! It's a pleasure tovisit this practice. I started flossing now

3x a week to keep up the work they did.

read more
Went in yesterday to get my teeth cleaned. I have super intense anxiety when it comes to the

dentist but Dr. Haddad and his hygienist Jen were amazing and very thoughtful.. they took their time, helped me feel calm and the work they did was painless and excellently done. I walked out, feeling dumb that I was so scared to walk in the door. Will definitely be back! Thanks again a Doc!

read more
Dr Travis and all the hygienists at Omnismiles are the kindest people I've ever encountered!!I

have had issues in the past with a dentists office that was extremely judgemental and made you feel uncomfortable and like you are always doing wrong.Omnismiles and Dr Travis have no ounce of judgment towards you and I feel so blessed to have found this dentists office for my children. They feel so much more safe and excited to get dental cleanings and work done!!Thank you all for being amazing, and changing our dental experience to a great one!!

read more
I'm so glad that I found OmniSmiles! All of the staff was so incredibly nice and Dr. Travis was

amazing with my 9 year old daughter that was terrified from a previous dental experience. Now she's excited to see him again in six months!

read more
I would highly recommend Omni Smiles. I wasn't completely satisfied with my prior dentist and

came to Omni Smiles for a free consult. It was truly free. I was in need of some technical dental work and couldn't be more pleased with my results and it was more than $1200. less than my previous quote. Dr. Travis and his team are highly skilled and listen to their patients' needs!!

read more
I love omni smiles!! Ottis and Kayla are the most wonderful dental assistants I've ever seen. And

don't even get me started on dr travis he's amazing and funny!

read more
Went there for my first time. The staff is very nice and helpful.The office is very neat and has a

peaceful setting to it. Dr.Haddad is very kind and understanding seems very knowledgeable with what he does and also seems to take pride in helping people

read more
The staff is amazing! Jen was so gentle when cleaning my teeth, she is the best! The front desk

girls are so nice and they go above and beyond to make sure you get the exact care you need. Then there is Dr. When he came in to meet me, he asked questions and listened to all of my concerns. He gave me options that I could afford. He was compassionate and attentive. I'm extremely happy with my visit and thankful I found a dentist office that actually cares and knows my name when I walk in!!

read more
These guys are great, Travis is the man. After initially trying to give my most difficult wisdom

tooth to a "better surgeon" I opted into doing everything at once for my own convenience. He absolutely did amazing, nothing to complain about here. Highly recommend, my family will be back.

read more
I'm am a new patient at Omni smiles, and recently in the office for a cleaning and checkup. The

staff was very accommodating and friendly. The cleaning was thorough and comfortable and doctor came in afterwards to inspect the cleaning and the health and condition of my teeth. I'm very pleased with the results I received and and happy to say that I have found my new dental home. Thank you OmniSmiles .

read more
Everyone is so friendly, they make you feel so comfortable. Throughout your visit they make you

feel like you're the only patient they have. I've been to several dentists in my life and they only made me scared to go back. I was never scared to come here. The dentist is so friendly and easy to talk to. He doesn't shame you for the shape your teeth are in. He tells you what he can help you with to get them in better shape and keep them.You guys, I went to 2 dentists before I came to OmniSmiles. They just wanted to pull all my top teeth out. Look at my picture. Can you tell which ones were in need of care? Come see these professionals at OmniSmiles. They are awesome!

read more
Jen made me feel so comfortable getting my teeth cleaned! Dr Travis is so informative and makes

everyone feel welcomed

read more
If I could give ten stars, I would! Everyone was very professional and definitely look out for the

patients best interests. If your looking for a new dentist then I'd try Omnismiles.

read more
My family of 6 (ages 34, 28, 13, 10, 3, and 1) all love this dentist. He's the best. Thank you for

creating such a welcoming and safe atmosphere where most people are worrisome or fearful.

read more
All staff and doctor were very friendly and answered ally questions and then some. Highly recommend.
Travis is the man! I can't recommend him enough Iv allways avoided the dentist like the plague I

just had all me teeth removed and he was Soo fast officiant gentle pain free! and super friendly he makes me miss having teeth allready just so I can go back and have him work on my teeth... Id give him 10 stars if I could

read more
I didn't go to the dentist for over 25 years because of a bad experience. The team at OmniSmiles

is amazing and I recommend them to everyone I know!

read more
Today was my first visit. Everyone was upbeat and friendly. Dr Hassad explained everything to me

clearly and precisely. I'm looking for a long term dentist and he will be just perfect! I can't say enough how wonderful everyone at this office treated me. I would highly recommend Omni Smiles.

read more
THEY WAS GREAT AS A MOTHER THEY WAS ABLE TO LOOK AFTER MY DAUGHTER WHILE I WAS SEEN LOVED

IT❣️

read more
Best dental experience ever, Dr. Is absolutely kind and gets right down to business! The gals that

work for him are awesome!!!

read more
My first experience was today it was wonderful staff wasfriendly 🫶🏾 10/10 I'm

coming back again 😘 AND big shot out to my fav Otis

read more
I had an excellent visit. I do not like going to the dentist normally but this place was wonderful.

Great staff and great Doctors. I will definitely keep my appointments from here on out.

read more
Everyone here is so nice! I was incredibly nervous to go in but once I was in the chair I knew I

was in good hands. I definitely will recommend this place to everyone:)

read more
First visit to any dentist in over 20 years. Very professional and knowledgeable. Great experience

and would definitely recommend Dr. Travis Haddad and his entire staff!

read more
I highly recommend this dentist. Very clean and very friendly staff. I was so nervous when I got

there. Dr. Travis made me feel so comfortable and had me smiling before I left. If I could give 10 stars I would. 🌟 thank you omni -smiles. I will be back in the future and will be bringing my faimly with me. Finally a great dentist...... thank you Leah......

read more
I am a new patient and the staff was very welcoming! I highly recommend if someone is looking for a

new dentist.

read more
This is the best dental office I've ever been to. Dr and staff go the extra to meet your needs and

beyond. Very caring and gentle. I would highly recommend this office

read more
Great place. I had a bad toothache and this office was able to get me in the same day I called. The

dental hygienist, Ottis, was very kind, and made me feel comfortable the entire time. He did a great job with my xrays and explaining things to me. And the doctor was great himself. He made sure I knew what was wrong and exactly how to go about having it taken care. All around 5 star experience. Highly recommend and will continue to come here from now on.

read more
Next Reviews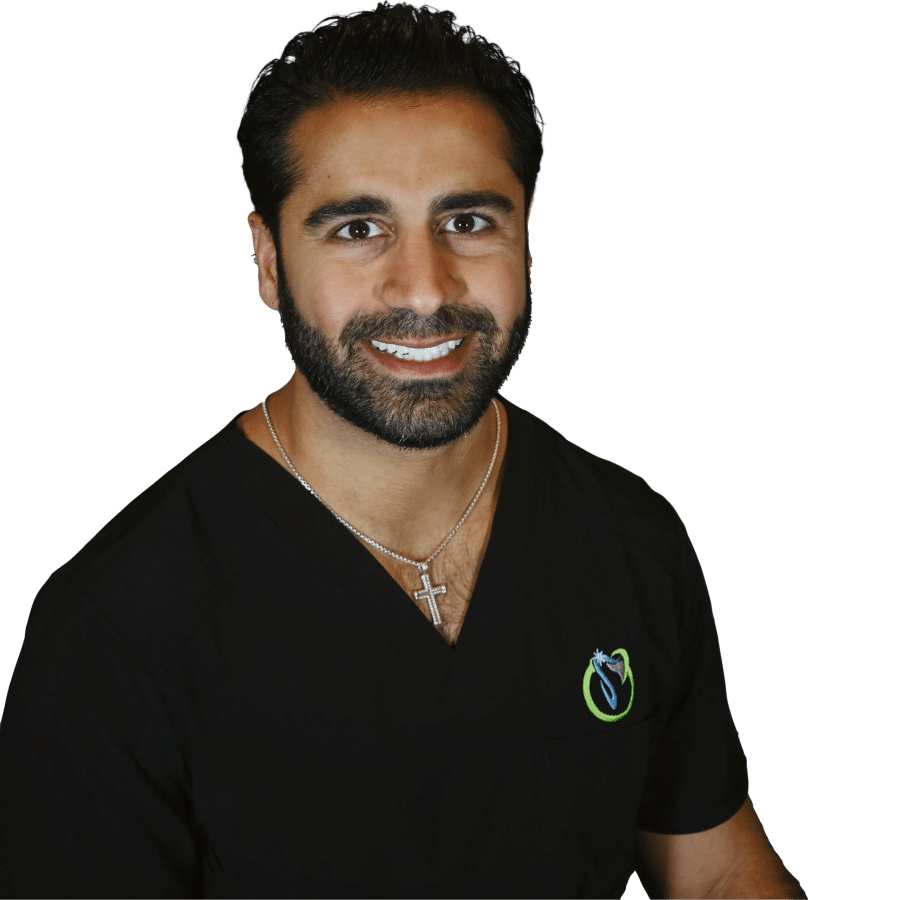 Family friendly, personalized dental care
Dr. Haddad is always ready to greet his patients with a friendly smile. A lifelong resident of Michigan, Dr. Haddad has been working and volunteering in the field of dentistry since 2008, serving the residents of Oakland, Wayne, Saginaw, and Genesee Counties. Whether you are looking for preventative care or to transform your smile, Dr. Haddad brings the expertise and compassion to give you a smile you feel confident about. Learn more about Dr. Haddad and the OmniSmiles dental team.