Serving Mt. Morris & Surrounding Areas
OmniSmiles opened its doors in March of 2019 to help patients of all ages achieve a healthy, functional, and beautiful smile. We pride ourselves upon our integrity and communication. OmniSmiles is a judgment free office. We don't believe in "selling" treatment. Instead, we present options and together we select which option works best for you. Learn more about OmniSmiles.
Dr. Haddad and his staff were terrific! Dr. Haddad was extremely professional and took his time to

come up with my treatment plan and I am so looking forward to the final results! I'm confident they will be amazing!! Stay tuned...!

read more
Dr. Travis is a God sent. His entire staff is so friendly and welcoming they literally treat you

like family. They are very down to earth and caring. Do amazing work he truly truly cares about his patients and perfecting it. Goes above and beyond for his patience. Very clean. I have never had a dentist or doctor even as great as him and his entire staff. The medical field needs several more Dr. Travis ❤️

read more
Highly recommend!!! Staff is amazing and the doctor is great!!! They listen and go above and beyond

to make sure you are taking care of!!! It has been over a decade since I felt this great leaving from my appointment! Just amazing! Thanks again and I'm actually looking forward to my next appointment!

read more
Awesome job done by omniSmiles, New patient, first visit, Madison was super friendly and did an

awesome job cleaning my teeth.

read more
This is the best dental office I've ever been to!! All of the staff are very friendly and

professional. Dr. Travis is a great dentist. He is very thorough, kind, and compassionate. He has recently helped me with my severe TMJ, which I've had most of my life. I am so thankful to finally have some relief. Thank you Dr. Travis for everything you have done for me!

read more
This was my first visit the staff were very nice and friendly, The moment I walked in the door the

facility smelled really good. I received a welcome gift which was very unexpected. I appreciate the candle.

read more
Very nice. Went for cleaning today and was treated great. Fiance went there before new years for

infection in 2 of his teeth and got it all taken care of. Doctor is very kind. Deffinatly recommend.

read more
Their name: Omni 'Smiles' certainly fits! Its the first thing to greet you(that warmth continues

through your stay, and 'after' you leave) and my favorite feature on a face,which makes the eyes twinkle..."genuine" compassion and concern from,(Dr.Travis Haddad, earned hero status) through an unavoidable experiance .I HIGHLY recommend OmniSmiles!!!!Thank you Dr.Haddad and staff😁❤

read more
Second visit today. I have never been to a dentist where I felt important. Everyone is always so

friendly. Highly recommend OmniSmiles!

read more
Hands down a fantastic place to go. I would recommend to everyone. The staff is amazing and the

doctor is fabulous. I have a special needs daughter and they were helpful and amazing with her. Thank you all for your great service.

read more
What a great experience. Very updated office and comfortable setting. Dr.Haddad was enthusiastic

and very personable. Jodi was very quick and kind. Would recommend to anyone that is looking for a new Dentist.

read more
My 4 year recently went to Omni Smiles for some dental work. He had a pretty traumatic experience

at his previous dentist office and refused to ever go back. Dr. Haddad removed my Wisdoms and molars and after my experience with him I knew where I needed to take my son. Easton's appointment went so well. He has raved about doc ever since and how nice and funny he was. Dr. Haddad personally reached out to us the following day to check in on Easton and make sure we didn't have any questions. Hands down the best dentist we've both ever been too. We will see you guys for routine visits for as long as Dr. Haddad is practicing dentistry. Thanks so much for all you do!!!!

read more
Travis was AMAZING, as well as his staff. Everyone is extremely friendly. I went in to get my top

wisdom teeth removed, and a filling. A day later, i feel no pain. I was well taken care of! Safe to say this will be my dentist from here on out!

read more
I felt comfortable from the start. Office was courteous and efficient. Dr. Travis was everything

you could hope for. My new dentist.

read more
I highly recommend Dr. Travis to anyone who is looking for a dentist for a regular cleaning or if

you're in need of emergency care. My husband and I have seen several dentists over the years and have never met a dentist who isn't friendly and professional. Dr. Travis is no different. Where he differs from others is in his philosophy of dental care. He will not perform procedures that he wouldn't do on his own parents and this is what really won us over. He is caring and compassionate, and got my husband in right away as a new patient in need of emergency care. I am extremely satisfied and will recommend Dr. Travis Haddad to my friends and family!

read more
Best dentist ever! The doctor is so kind and amazing and the staff are all very nice as well. I

always feel welcome and comfortable in the office. They take the time to talk to you, explain things, and treat you like a person and not just another patient. I would highly recommend this dentist to anyone.

read more
I absolutely LOVE this dentist office! I've attended this office since before it became

OmniSmiles and seeing the transition Travis and his team have done is mind blowing! Most definitely an upgrade! LOL Every single staff person there is caring, helpful, welcoming and attentive! I'm also in the process of transferring my kids here to because they are also amazing with kids! Dr. Travis definitely goes out of his way to make you feel comfortable and welcomed! Extremely laid back and easy to get along with. Wouldn't choose any other Dentist!😊♥️🦷

read more
The office and staff was very nice and friendly, I had a wonderful experience and will continue to

us the service

read more
Absolutely amazing group of people! Took my daughter in for a consult for braces today and she

literally had them put on today! They made her feel confident and comfortable, we are both very pleased!

read more
Super great staff. The dentist was amazing and my son absolutely enjoyed his visit. We are now

seeing them for the foreseeable future.

read more
I was very impressed with my visit. Everyone was very nice and friendly. I am older and in my youth

had some bad experiences but not the hygienist and Dentist were excellent explained everything and made me feel at ease. I would gladly recommend them and will returning myself.

read more
Amazing dentist, my daughter was treated so well she wanted to come back! I would recommend them to

anyone with kids especially!

read more
Next Reviews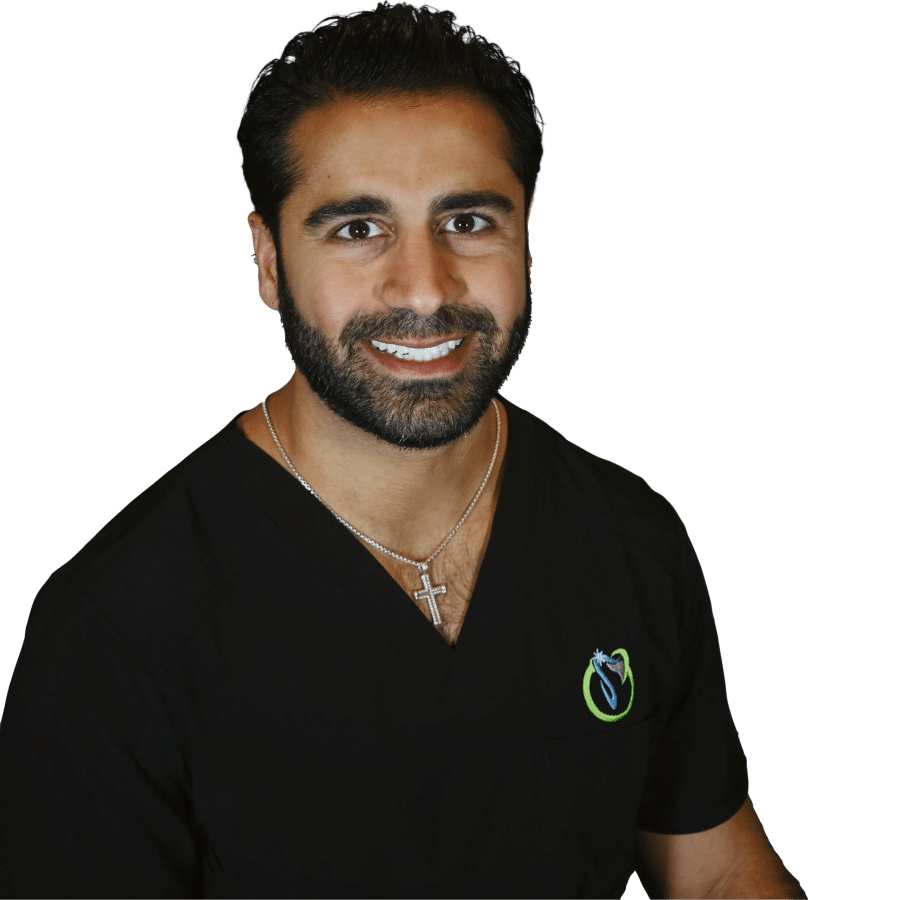 Family friendly, personalized dental care
Dr. Haddad is always ready to greet his patients with a friendly smile. A lifelong resident of Michigan, Dr. Haddad has been working and volunteering in the field of dentistry since 2008, serving the residents of Oakland, Wayne, Saginaw, and Genesee Counties. Whether you are looking for preventative care or to transform your smile, Dr. Haddad brings the expertise and compassion to give you a smile you feel confident about. Learn more about Dr. Haddad and the OmniSmiles dental team.