Serving Mt. Morris & Surrounding Areas
OmniSmiles opened its doors in March of 2019 to help patients of all ages achieve a healthy, functional, and beautiful smile. We pride ourselves upon our integrity and communication. OmniSmiles is a judgment free office. We don't believe in "selling" treatment. Instead, we present options and together we select which option works best for you. Learn more about OmniSmiles.
They were great! Best experience of a dental office I've ever had, they were careful and gentle

but knew what needed done. Got me a dental treatment plan going and can't wait to finish up and have them teeth looking great again.!

read more
Very friendly staff took our daughter for her first dental visit and the staff was great with her

explaining everything they were going to do to make her feel comfortable.

read more
Awesome dental office!!! It's very clean and nice inside. Everyone was very smiley and kind!

Highly recommend!

read more
The most friendly staff I have ever had a pleasure to have at a Dentist office. They care about

you, often ask how are you doing during the procedure you maybe having done. I would recommend Omni Smiles to anyone.

read more
I've been looking for a good dentist for awhile and I do believe I found one at OmniSmiles.Very

comfortable feeling when you walk thru the door.Everyone is very friendly and my new dentist was great explained what he was going to do before he pulled my tooth and what I would expect during the process.He made it painless and fast.🙂

read more
I was very pleased with my recent visits. Dr Travis is very kind and caring. The staff is very

nice. I didn't have to wait at all.

read more
OmniSmiles is amazing!! I came in for a cleaning and zoom whitening. They were friendly, easy

going, and did an absolutely amazing job on the cleaning and the zoom. Made sure I was comfortable and went above and beyond. Dr. Hadadd and the team are great and I highly recommend them!

read more
Best dentist and staff ever ! Kid friendly and adult friendly they have a puppy named sonny my kids

love to see and prizes for the kids monthly clubs it's an amazing place

read more
Very knowledgeable and professional staff! The atmosphere is calming and positive. I am so glad

that I found OmniSmiles for my son's ortho needs.

read more
My 10 year old has an extreme fear of the Dentist. They were very kind and gentle. They took things

slow and explained everything they were going to do. Their patience put her at ease. My whole family will be coming here from now on.

read more
Went in for my first visit today and was blown away. The staff were all so nice. The tech doing my

cleaning was phenomenal. I would recommend them to anyone. They make everything go so smoothly, you're at ease and not left with any lingering questions. Actually looking forward to my next visit at the dentist

read more
OmniSmiles is a FANTASTIC dental practice. Everyone was warm and friendly and genuinely wanted me

to have a good dental office visit . Jenn was great! The Dr was great! This is the first time I can say that I am looking forward to my next 6 month visit!

read more
Very friendly staff. Dentist was honest with my options and his opinions for treatment. Took

great care in ensuring my comfort during the procedure.

read more
Great place! Jen was amazing, I've never felt more comfortable at the dentist! Very friendly

atmosphere. It was nice to sit down with the dentist ( Travis )and talk over a plan of care.

read more
It was 10 years since I last saw a dentist I was a little nervous having to get a root canal done

on my second appointment. Doctor Travis made me very comfortable and assured me I had nothing to worry about and the procedure would be painless. He delivered on everything he promised I would recommend Omni-Smiles to everyone and anyone very welcoming lobby with kind and courteous office staff as well 10/10 will bring the family and dog if he were a vet!

read more
First time stepping back into a dentist office in quite a few years. It's very welcoming, they are

patient and very considerate about how your doing while working. Really happy to have added my family to this office!

read more
Such a amazing and warming staff very patient they did so good with my son he's only three he's

hyper but they did so good today giving him his first two fillings I've been to a couple different dentist for my kids and this one is absolutely my favourite for not only my three old son but also my four-year-old daughter definitely recommend I know sometimes moms get nervous when they have to take their kids to the dentist at a young age but I can assure you they definitely know what they're doing I am so grateful

read more
I had the best experience at the dentist I have ever had. Everyone in the office is nice they make

you feel comfortable. I recommend if your uncomfortable at a dentist you should go here. If I could give 10 starts I would.

read more
Very nice people an did an amazing job cleaning my teeth. Strongly recommend.9/20/22 Shout out

to Travis at #OmniSmiles did some great work today an thanks for the shades would like a better pair next time 😅 lol jk

read more
Everyone there was amazing! Super friendly and very helpful. I won't go anywhere else now that I

have been here!

read more
Today was the first visit in a while, to any dentist was treated, like family, had my questions

answered I had a plan made, and discussed with me. Overall would recommend the dentist office to anyone and anyone who has kids, should come here. much love for my new crew at OmniSmiles

read more
Posting for my niece. Dr Travis and team are very pleasant people. They treat you like family. My

family and I will not ever use any other dental office. Very pleased with the service

read more
Ms. Rhonda was so patient and kind with my girls first cleaning experience. Dr. Travis Haddad was

also so accommodating and nice and explained everything to my daughters! I highly recommend Dr. Haddad as your family dentist!

read more
Brought my 3 year old in for her very first dental visit. The staff made her feel welcome and

comfortable. She went right back and let them do everything they needed! The hygienist was very gentle with her and ensured to show her everything before trying to put the tools near her mouth. She was excited to be able to take her coin up front to cash it in for a prize. Recommend to anyone who needs a kid friendly dentist!

read more
Honestly the best dentist I've ever been to. I've had a horrible experience with my previous

dentist Dr. Kassal who has left me with numerous problems with my teeth that even resulted in me having to sue him. Dr. Travis and his team have went above and beyond to help me resolve these problems and have relieved my teeth pain that I've been having for over a year as result of Dr. Kassal's work. They are the most understanding office I've ever been too. I've even had a panic attack during a procedure and they did all they could do to make me feel comfortable during that time which I greatly appreciate. Love this office and highly recommend!!

read more
By far the best dentist we have ever been into kind courteous professional and very informal the

doctor was a pleasant surprise and his assistants are even greater very family oriented company for a fun and safe check up this is the place to be❤❤❤

read more
Absolutely LOVE the staff. My children enjoy their visits because of the techs and Dr. Travis. Very

welcoming and calming atmosphere as well.

read more
I have been to many many different dentist offices. And this one is by far the best i have ever

been too. The entire staff is so welcoming and nice. My 3 year old warmed up fast and they actually got to clean her teeth. I would definitely recommend this dentist. They are amazing!!!!!

read more
Absolutely terrified of the dentist but Omnismiles made things better with the friendly and

patience of the staff and doctor. They were very understanding of our previous horrible experience with another dentist and made sure we didn't experience that again.

read more
Next Reviews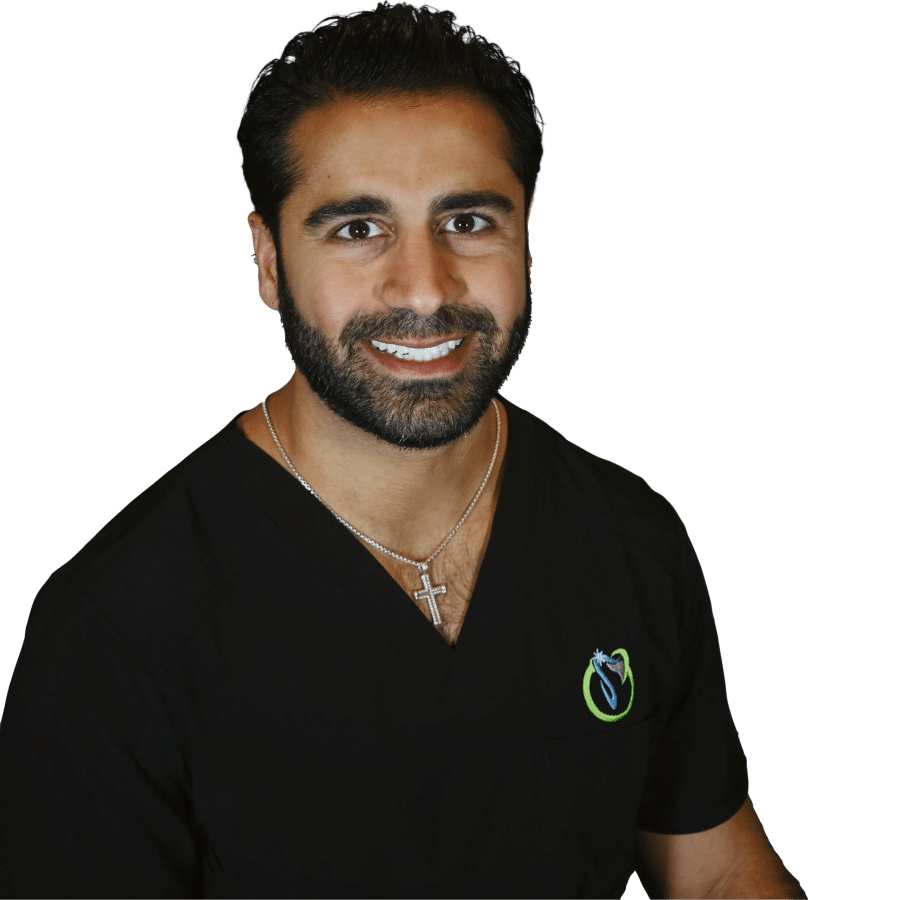 Family friendly, personalized dental care
Dr. Haddad is always ready to greet his patients with a friendly smile. A lifelong resident of Michigan, Dr. Haddad has been working and volunteering in the field of dentistry since 2008, serving the residents of Oakland, Wayne, Saginaw, and Genesee Counties. Whether you are looking for preventative care or to transform your smile, Dr. Haddad brings the expertise and compassion to give you a smile you feel confident about. Learn more about Dr. Haddad and the OmniSmiles dental team.